written by: houselogic
Transform your home into a beautifully designed space — without the spendy price tag.
---
Home improvement pros and DIYers tout a fresh coat of paint as a favorite among low-cost home upgrades that can make a huge impact. But what else can you do to accessorize and decorate? Sometimes the little things can make a bigger difference than you'd think.
Professionals share the following easy and low-cost home upgrades to add a designer's touch all around the house. These projects may even help increase your home's perceived value.
For the Bathroom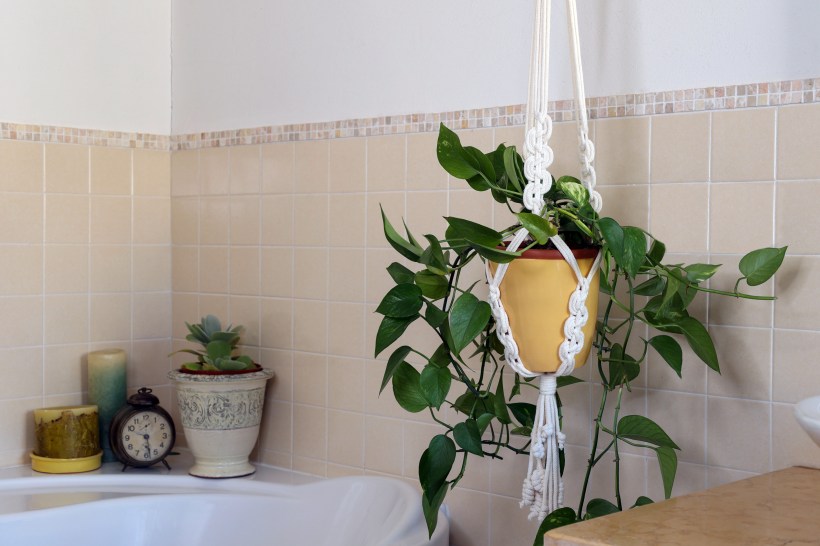 1. Frame It
Estimated cost: starting around $100
That edgeless, builder-grade mirror hanging above the bathroom vanity may be prime for an update. Jessica Love, an interior designer with Urbane Design in Austin, Texas, suggests using DIY frame kits, like the ones from MirrorMate. Measure the mirror and choose from numerous frame styles and materials, like wooden walnut or shiny brass. The frame kit includes clips and metal strips to attach to the existing mirror. A once-forgettable mirror instantly looks customized and styled to the space, Love says.
2. Infuse Some Green
Estimated cost: $5 and up
Simply adding greenery can liven up bathroom spaces and soften harsh lines from all the heavy fixtures, designers say. Try a statement plant on the floor, like the vertical sword-shaped leaves of a snake plant or the feathery foliage from a bird's nest fern. Or you could incorporate smaller plants, like a mini aloe in a white ceramic planter or an iron fern in a rounded marble vase.
Many renovators say they're incorporating greenery to update their bathrooms for aesthetics, air purification, and odor-fighting abilities, according to the 2022 U.S. Houzz Bathroom Trends Study, a survey of 2,500-plus remodeling homeowners. Tight on space? Love suggests topping a shelf or vanity counter with an air-purifying indoor plant on a natural tray (for texture) along with a favorite candle.
3. Modernize Hardware
Estimated cost: hardware starting at about $2 apiece, faucets for $200 or less
Just swapping out the faucets and drawer pulls is a small home upgrade that can refresh an outdated bathroom. Try trendy gold or black cabinet pulls or a modern boxy-style faucet. "Mixed metals are trending right now," Love says. "We're seeing black with brass and brass with chrome." Love's favorite resource for inspiration is Build.com, which features a variety of manufacturers and styles.
4. Soften the Lights
Estimated cost: about $100 or less apiece ($40 to $120 per fixture for installation by an electrician)
Wall sconces can warm up the bathroom lighting, says interior designer Jessica Nelson of Jessica Nelson Design in Seattle. She suggests wall sconces hung on each side of the vanity mirror in a black, brass, or chrome finish. The bulb color's temperature is important, Nelson adds. "My sweet spot is between 2700K [Kelvin] and 3000K. I do not recommend going any cooler than that," she says. "2700K is a crisp but warm white, and 3000K is my personal favorite. It's a really soft warm light."
For the Bedroom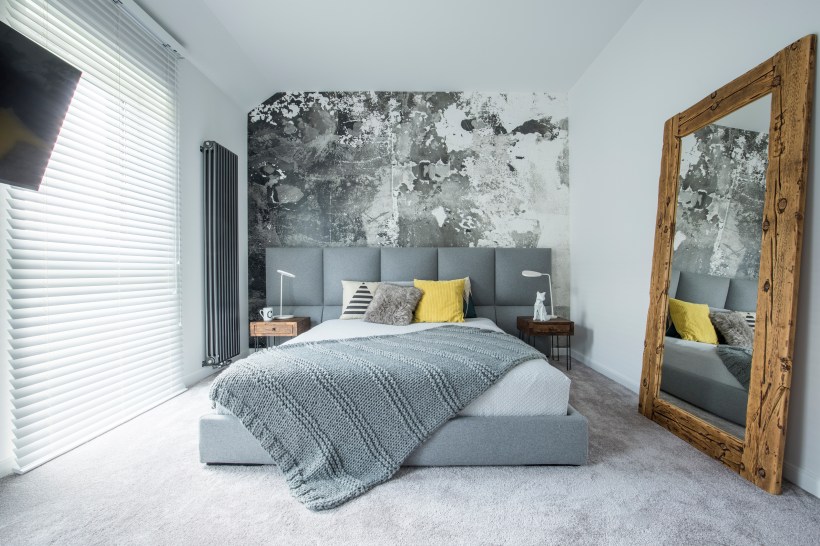 5. Add Molding to the Walls
Estimated cost: about $200, including a designer's input
Installing molding on the walls behind the bed is an impressive home upgrade. Krisztina Bell, founder of No Vacancy Home Staging and Virtually Staging Properties in the Atlanta area, recently used black molding zigzagged across a wall to dress up a white, blank slate behind the bed frame. She says designers and woodworking artists are readily available on sites like Etsy.com (search under "professionally designed custom dimensional accent wall"). They will custom design a 3D digital model of the molding to fit your wall and provide an instruction packet, shopping list, and cutting and installation instructions so you can DIY.
6. Decorate With Mirrors
Estimated cost: $150 to $250
"I love adding a statement wall mirror to a bedroom," says Channa Alvarez, interior designer and production designer at Living Spaces, a national furniture retailer in La Mirada, Calif. She suggests hanging a new mirror above a nightstand, dresser, chest, or bed. Try a mirror in an unusual shape, like a diamond, hexagon, or square silhouette. "If you're itching for a redesign but don't want to spend so much, a mirror is the perfect buy. It's simple, affordable, and light-enhancing."
For the Living Room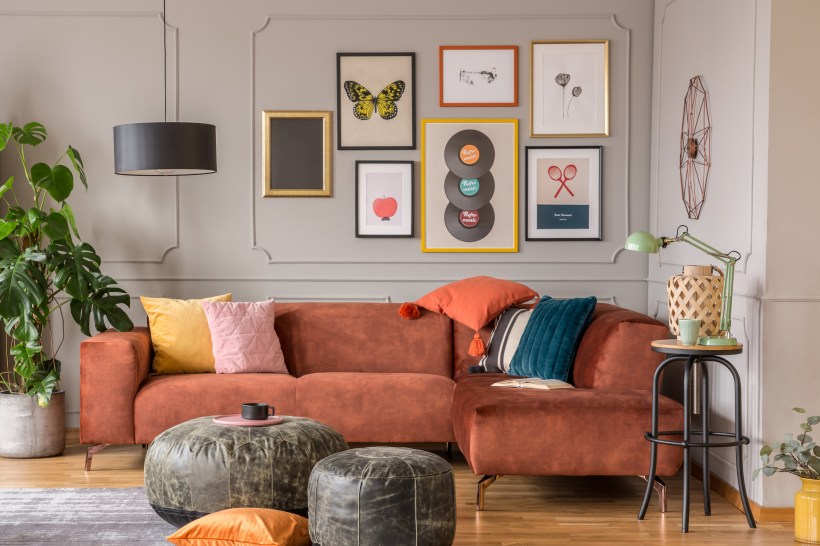 7. Texturize and Accessorize
Estimated cost: $50 to $150 to update a few accessories
"A room can appear one-dimensional when it's missing texture," says interior designer Lance Thomas of Thomas Guy Interiors in Lake Charles, La. Designers may add texture by incorporating dressers with fluted designs, chunky knit throws, velvet ottomans, or leather accent chairs. You can adapt that idea by scoping out items from other rooms in your house that you can mix in to the living room to add texture and depth. Or shop secondhand stores for small items you can refinish, repurpose, or re-cover. For example, re-covered accent pillows are an affordable way to add texture to your furniture.
"Perhaps the best thing about accent pillows is they're an easy seasonal item, making your living room feel different without costing as much as a new furniture buy," Alvarez adds. "Throw pillows are a great and inexpensive way to incorporate new trends or add color to your living room." Also, functional accents — like a set of three seagrass baskets — can be great for a corner or near a fireplace, Alvarez says. Then, "place throw blankets in them to give the room a cozy, inviting feel."
8. Wallpaper the Shelves
Estimated cost: about $50 for a small roll
For homeowners who may be too timid to jump on the wallpaper comeback trend, try it in small doses and with less commitment (especially when using a removable peel-and-stick type). Interior designer Mel Bean of Mel Bean Interiors in Tulsa, Okla., suggests adding wallpaper to the inside back of a bookcase or other shelving unit to dress it up. Recently, she used a jagged, striped gray-and-cream-colored wallpaper behind each shelf on an all-white built-in to add texture, color, and a more custom look.
For the Kitchen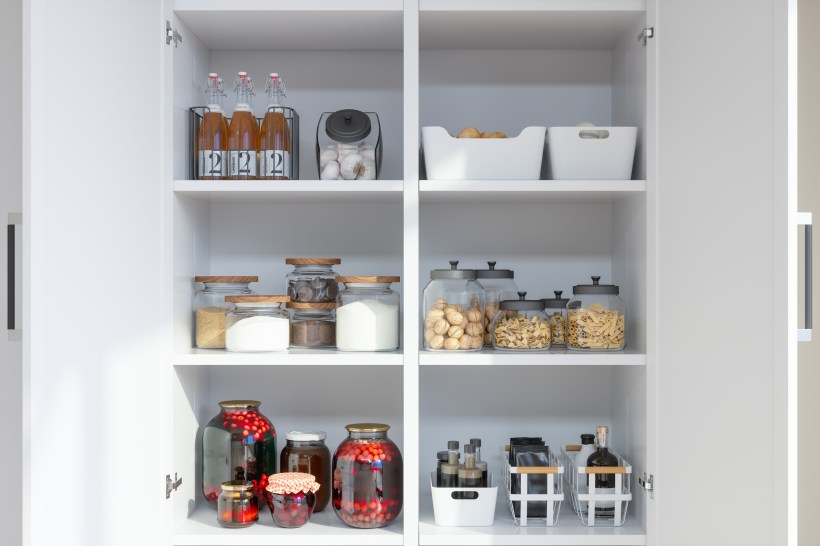 9. Bring in Some Bling
Estimated cost: starting at $2 apiece for cabinet hardware, $60 to $150 for pendant lighting (extra $40 to $120 per fixture for installation by an electrician)
Don't let an all-white kitchen become boring, Bell says. "Add industrial or contemporary black hardware and lighting to make a kitchen look more chic. Gold is trendy; or chrome, nickel, brushed silver, and stainless steel hardware and lighting are always safe bets," she adds. Bell likes sites such as Overstock.com, Wayfair.com, or Amazon.com for affordable, stylish mid-century mod, industrial, or futuristic pendant lighting options.
For example, she used shiny gold canned pendants in an otherwise all-white kitchen to highlight the island. "Even just changing out one main fixture or series of pendants above a kitchen island can change the whole look of a room instantly without having to renovate the entire kitchen," she says.
10. Dress Up the Pantry
Estimated cost: starting at $1 each for baskets and glass jars
Pantries have emerged as a kitchen favorite, so they're a good choice for a home upgrade. They're rated as essential or desirable by at least 80% of home shoppers, according to the National Association of Home Builders "What Home Buyers Really Want" consumer survey. Retailers such as the Container Store, Ikea, and Dollar General offer baskets and glass jars in all shapes and sizes.
"Invest in a label maker and go to town organizing your pantry so everything matches and looks almost decorative or too pretty to take snacks from," Bell says. "This helps create visual order in the space too." For example, stow pasta in a glass container, put the packaged bread and other products in shelf-sized baskets, and color coordinate the canned goods.
For Outdoors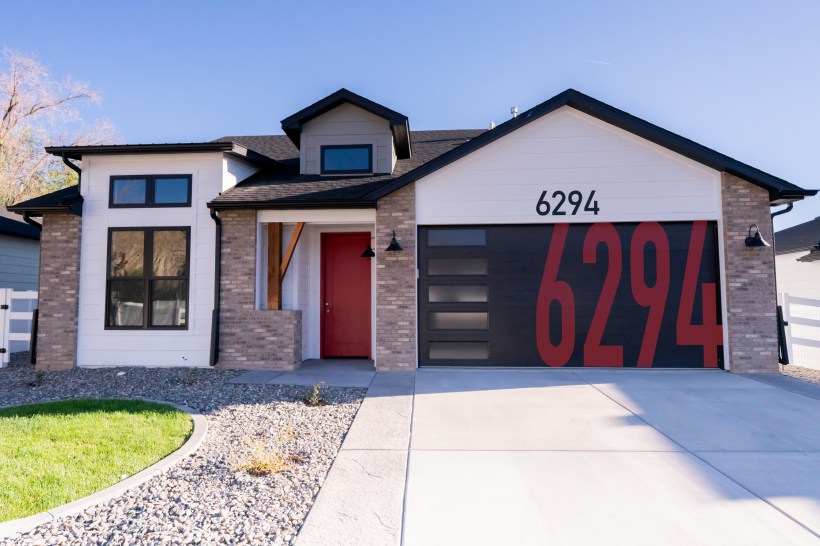 11. Accentuate With Flower Boxes
Estimated cost: $150
Boxes filled with flowers along the bottom ledge of your outside windows can enhance your home's architecture and colors. "Flower boxes have this cozy and charming feel," says Jackie Mosher, co-founder of Dzinly, a company in Royal Oak, Mich., that helps homeowners and real estate professionals digitally design exteriors. "They can add interest, dimension, and some personality." Fill them all year-round. Mosher suggests using three different types of flowers (for example, greenery, a taller plant in the center, and a colorful accent flower).
The size, proportion, and positioning of flower boxes are important; don't overdo it, she adds. Not every window needs one. Maybe it's just the large picture window or the windows on a second story. To test placement, Mosher suggests duct taping cardboard cutouts to the windows to view the possibilities before drilling any holes.
12. Swap Out Lighting Fixtures
Estimated cost: $200 to $250
Bring in a statement light above the front door for a functional and dramatic home upgrade. A hanging pendant or chandelier on the front porch isn't just for extra illumination. It can enhance curb appeal, Mosher says. She suggests a fixture that's about one-third or one-fourth the size of the front door (including the trim) and having it hang about 66 inches from the ground. "So many times, we hang them too high," she says. "Let your front porch light be the loudest. The lights on the exterior should be your jewelry — your 'wow.'"
If there's no place for a pendant, upgrade the lights to the side of the door, such as with boxed lanterns in a black or antique bronze, she suggests. Her favorite site for inspiration: Bevolo.com, which recommends fixtures based on house style (modern, traditional, coastal, etc.).
13. Oversize the House Numbers
Estimated cost: $150 to $200
The home's address numbers may seem insignificant for the outside design, but Mosher calls them one of her favorite inexpensive home upgrades. Large format, sleek black address numbers can add a modern vibe to a home, she says. "House numbers are like adding a statement watch to your outfit. It pulls it all together."
The numbers can be in all-black or in colors, like even pink or teal, depending on the home's style, she says. The placement varies too, from the side of the front door to above the garage or anywhere along the front. "These can become a focal point and add some flair," she says. Mosher's favorite site for inspiration for house numbers: Modernhousenumbers.com.